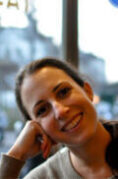 Mg. Taylor A. Berry
Taylor Berry is a consultant with Telecom Advisory Services, based in New York. With a background in communications, Ms. Berry conducts research in global telecommunications and internet industry trends. Paying particular attention to leading firms and technology developments that impact future business strategy, she drafts reports and presentations for clients analyzing firms' financial performance, and regional technology penetration and development.
Prior to joining Telecom Advisory Services, Ms. Berry was a visitng scholar at Columbia Business School's Institute for Tele-Information (CITI), conducting research on the impact of mobile telephony in addressing the unemployment crisis in South Africa. In addition, she worked in private wealth management and at an organization that provides legal support in low-income neighborhoods, both in Washington, D.C.
Taylor Berry graduated cum laude from Wake Forest University with a B.A. in Sociology and Spanish. She also holds an honors certification in International Business Diplomacy from the School of Foreign Services and an M.A. in Communication Technology from Georgetown University. Prior to attending Georgetown, Ms. Berry received a certification in International Trade and Development at the Graduate Institute of International and Development Studies in Geneva, Switzerland.
She has received invitations to present her work surrounding online activism and Internet penetration as well as on the cultural costs of offshoring at international conferences in the United States and abroad. She has also published studies on the economic impact of Internet surveillance and censorship.